Tuesday, 19 December, 2017 - 17:00
The new guide for innovative public procurement explained
The new guide for innovative public procurement explained
Barcelona City Council and the European Institute of Public Administration (EIPA) organised the most important event and seminar for city council staff and other European cities interested in this topic.
The aim was to offer them an opportunity to share their knowledge of innovative public procurement and ways to become a leading city in promoting demand-side innovation.
The event was led by Anna Majó, the Director of Technological Innovation, who briefly outlined the strategic use of public procurement (which represents up to 20% of GDP in developed countries) and demonstrated its enormous transformative capacity. In that regard, Barcelona City Council has decided to use its public procurement potential to stimulate innovation targeted at city life's challenges and to broaden the impact of its social and environmental policies, which will encourage a new approach to purchasing where the client-provider relationship becomes a collaborative partnership. The council also wants to stop purchasing according to detailed technical specifications and adopt a challenge-based approach, taking advantage of previous experiences such as the Open Challenge.
After Majó spoke, Lorenzo di Pietro, Executive Director of Enterprise, Business and Innovation at Barcelona Activa, commented on Barcelona's situation as a digital entrepreneurial hub.
The city, with over 51,000 workers and, for the first time ever, more than 2,500 companies with staff working in ICTs, is the heart of the sector in Catalonia. 55.6% of employment in the territory and 47.8% of its business community is concentrated in Barcelona. It is calculated that in 2015 the information and communications sector, which encompasses ICTs, generated 7.4% of gross added value in Barcelona.
An example of the sector's dynamism in recent years is the 11,000 increase in jobs between 2011 and 2016 (+29.5%), more than triple the growth experienced by all sectors in Barcelona taken as a whole (+6.4%). The higher growth dynamic in the ICT sector compared to the rest of the economy can also be observed in the creation of new companies, with a growth rate of 32.3% in contrast with 3.6% for all activities.
The city is home to 28.4% of all emerging digital companies in Spain, notably e-commerce (21% of the total), followed by the mobile and business services sectors, each with 10%, while digital social entrepreneurship and tourism both account for 9%. On top of that, Barcelona is fifth among European cities as regards the number of start-ups, making it the highest Spanish city in this ranking.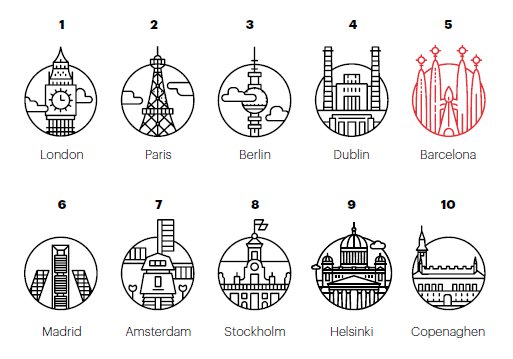 Also worth mentioning is how the city has climbed up the Innovation Cities Index, a prestigious ranking based on 162 innovation indicators; it was 13th in the world in 2016 (up 14 places compared to 2015 and 43 compared to 2014) and fifth in Europe. London, New York and Tokyo lead the way, while Barcelona scored the same as Vienna, Seoul, Amsterdam, Sydney and Munich.
The next speaker, Francesca Bria, offered some thoughts on how the digital era is rapidly and profoundly changing society and, therefore, the way that citizens relate to companies and public authorities. The convergence of digital transformation, citizen participation and transparency forces us to change public entity models so they can adapt to the new needs that are emerging.
Digital transformation is based on the real-time availability (through the merger of technologies such as the internet of things, cloud computing, big data and cyber security) of all relevant product information, provided by accessible internet throughout the entire value chain. This is possible thanks to the digitisation and confluence of all production units and organisations in the economy.
The city council wants to promote the creation of platforms, and collaboration with companies and important players in the sector, to drive the digitisation of industry and establishment of clusters with engineering companies, manufacturers, technology providers, associations, research centres, universities and government to identify, develop and promote the best practices.
The "Barcelona Digital City Plan, 2017–2020. Transition to Technological Sovereignty" aims to go beyond the current smart city model and turn Barcelona into an open, fair, circular and democratic city.
This plan has been endorsed by approval from the Governmental Measures for open digitisation: freeware and the smooth development of services, which means:
Promoting the development and provision of agile, open and ethical digital services.
Promoting the development of internal design skills focused on users and agile methodologies to regain control of digital services.
Disclosing public procurement processes to make them more transparent, simpler and more objective, and to cut down on bureaucracy. Innovation in procurement processes will also enable diversification in technology providers.
It was also pointed out that innovation and the digital economy enhance sustainability and are essential for achieving sustainable growth and employment in Europe's regions. New products and services make European companies more competitive and create jobs.
Barcelona City Council's capacity for acting as an innovation promoter through public procurement is essential for positioning Barcelona as a sustainable city, i.e. socially and environmentally responsible and economically competitive in Europe. This is due to two factors:
Innovation is key for achieving sustainable growth and employment; it opens doors to SMEs and start-ups, and helps achieve greater efficiency in public services by providing public purchasers with all the advantages that flow from the possibility of finding tailor-made solutions to their needs.
Using its strong buying power, the city council can implement public policies that serve the public interest by exercising a demand-side pull on the market, as well as recognising that price is not the only factor to consider. The procurement strategy will therefore reinforce the city's political line of action.
The city council is working to promote the digital economy, together with overcoming the digital divide, and it wants to encourage the use of digital technology to tackle social challenges as well as promote new models of a more collaborative and circular economy.
It has made a firm commitment to step up public procurement of innovative solutions as part of an overall commitment to strategic public procurement. So, besides the regulations and guides published on social public procurement, with their goals of social justice, environmental sustainability and a code of ethics, work has started on promoting innovation through public buying. The purpose is to improve the public services on offer, to foster business innovation by using the local public market as a launch or benchmark customer and, hence, boost industry and available jobs.
The financial support available from the city council's own funds as well as EU programmes, especially the European structural and investment funds and Horizon 2020, offer some useful funding opportunities for the public procurement of innovative solutions.
The Innovative Public Procurement Guide and the Guide to Public Procurement of ICTs are designed to complement the aforementioned guidelines by introducing innovation a) that is linked to the development of economic, social and environmental sustainability and b) as a multiplying factor that helps to create employment and economic growth, fosters social and environmental values and, at the same time, offers support to those innovative companies that find solutions to the public's challenges.
The Innovative Public Procurement Guide identifies five broad lines of action that are described below.
Planning purchases. Using innovative purchasing where there is no solution available for what we need.
Engaging in a dialogue with the market. The current legal framework, following the approval of the Public Sector Contracts Act (LCSP), includes the possibility of starting a dialogue between the awarding authorities and the market prior to preparing the procurement file. The city council will set up suitable channels (mainly digital) for establishing a dialogue.
Innovation measures in each contract. Innovation is not a static matter and how it appears cannot be subject to planning. The city council therefore proposes an approach geared to innovation in all its contracts.
Technology as an ally. There is a need to assert data ethics and technological sovereignty based on freeware, open data and agile methodologies.
Funding sources. New funding sources need to be set up. One of the most important is the budget for routine purchases which, by incorporating innovation measures, becomes one of the main driving forces.
Hence, these guides reinforce the city council's capacity for acting as an innovation promoter through public procurement, which is essential for positioning Barcelona as a sustainable city, i.e. which is socially and environmentally responsible and economically competitive in Europe.
http://ajuntament.barcelona.cat/premsa/2017/04/30/lajuntament-aprova-el-decret-que-fixa-els-nous-criteris-socials-i-laborals-que-garanteixen-una-contractacio-publica-sostenible-a-barcelona/?hilite=%22contractaci%C3%B3%22
Bria also highlighted the role of Urban i-Lab, a laboratory to drive innovation in Barcelona and understand the city as a setting and platform for relations, as a space for urban and social innovation. Barcelona sees itself as a big laboratory for its creative talent, its resident communities and its knowledge centres. Projects like Urban i-Lab develop a space for co-creation with the public and especially the business community, together with the confluence of new technologies such as open data and big data, robotics, artificial intelligence and the internet of things, in order to ensure sustainability and social and environmental impact.
Next, Gracia Vara Arribas, an EIPA expert and joint coordinator of the event, explained that EIPA was set up in 1981 for the first Council of Europe held in Maastricht. Its main mission was to provide a mix of insights and practical knowledge on EU policies for all the professionals involved in the EU's public affairs to further improve its capacities, including those for efficient policy management.
EIPA is supported by EU member states and the European Commission. It assists the civil servants of national and regional public authorities in the member states as well as the European Commission and other EU institutions.
Vara explained that, after a benchmark index had been set up for Europe's cities and regions, some success criteria for strategic procurement were established and that, to meet their targets, they must comply with the four "Ms"
Political mandate: at the highest level, with long-term procurement planning and stable professional teams.
Mentality: team training, open and flexible dialogue with the market, favourable culture promoted across the board.
Means: professional human resources, risk management experts with experience in assessing projects, training and a mechanism for communicating good practices.
Measurement: compulsory targets that are quantifiable, binding and monitored.

Next, Vasileios Tsanidis, from the European Commission Directorate-General for Communications Networks, Content and Technology, gave a lecture on innovative procurement.
According to European Commission data, public procurement represents nearly 20% of European GDP. The way this public money is allocated has clear and important repercussions on the economy.
Procuring innovative solutions enables public bodies to deliver public services more efficiently, reduce energy consumption and cut life-cycle costs, as well as bringing lots more advantages that flow from the possibility of having solutions which fully satisfy their needs.
Innovative public procurement provides opportunities for SMEs, which are agile and flexible enough to satisfy the needs of public buyers. The new public procurement directives (Directive 2014/24/EU) in the European Union and the Public Sector Contracts Act in Spain have readied the legal framework for innovation.
Europe is promoting strategic public procurement, which associates the concept of efficiency in public spending with promoting common European social goals set out in the European Commission Communication, "Europe 2020, a Strategy for Smart, Sustainable and Inclusive Growth".
Some newspapers such as La Vanguardia covered various aspects of the event.
http://www.lavanguardia.com/local/barcelona/20171214/433626599460/barcelona-impulsa-una-nueva-guia-de-contratacion-publica-innovadora-y-de-compra-de-servicios-tic.html
This was followed by the start of the seminar, which was attended by 15 municipal representatives from various city council areas, such as Urban Ecology, BIMSA, Culture, and so on.  The speakers included people of the standing of Francisco Blanco López, Director of Administrative Procurement Coordination at Barcelona City Council; José María Gimeno Feliu, Professor of Administrative Law in the Faculty of Law at Zaragoza University; Ramon Maspons Bosch, Director of Innovation at the Health Quality and Assessment Agency of Catalonia (Generalitat of Catalonia); Jaap Strating, Director of Acquisitions at Eindhoven City Council, and Dr Leon Smith, from the Capital Programmes Directorate, London Underground / Transport for London (TfL).
The presentations from the main managers of demand-led innovation processes in London and Eindhoven, and from Catalan government and Barcelona City Council experts, were followed by an open discussion on the new approach to conventional procurement processes and how to build learning organisations that are flexible, open and prepared for the technological challenges of today and tomorrow. The discussion also touched on how to ensure that public procurement for innovation brings about institutional change in cities. The aim is to find a new role for local authorities as the co-creators and shapers of markets for the benefit of society. 
The seminar also explored the application of innovative public procurement and pre-commercial public procurement, as well as the role that cities have in shaping and creating markets. Four key questions were discussed:
How to make strategic decisions in social and technological missions using our purchasing power - NEEDS ASSESSMENT AND MARKET RESEARCH
How to turn public sector institutions into learning organisations that accept the risks inherent in innovative public procurement - RISK ASSESSMENT
How to assess bids in a dynamic way, replacing the conventional cost-benefit analysis - LIFE-CYCLE COST
How to support an innovative public procurement method to achieve sustainable growth - FINANCIAL ASPECTS
Everyone who attended the seminar said that it had been very useful, encouraging them to put innovative public procurement into practice because, as one person put it: "I've seen it's possible, and not just in Holland or London, but in Catalonia and Barcelona too."
You can find further information on the innovative procurement processes carried out by the Technology and Innovation Commissioner's Office at http://ajuntament.barcelona.cat/digital/ca/innovacio-digital